Section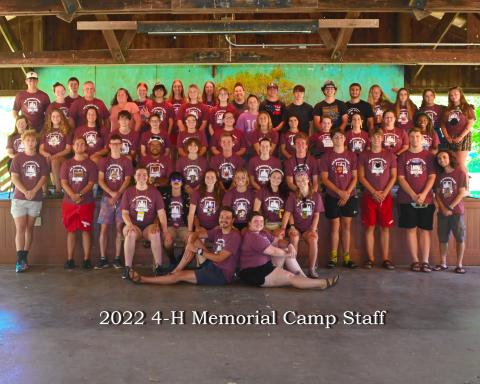 4-H Memorial Camp is operated through University of Illinois Extension. The camp is located approximately 30 miles southwest of Champaign adjacent to Allerton Park near Monticello, Illinois.  4-H Memorial Camp serves approximately 3,000 youth and adult campers each summer season.  Employees receive a one-week paid training session prior to camp.  
Our seasonal program staff and counselors live on site during the weeks of camp. All positions are provided room and board in addition to salary. We typically look to fill the following positions:
Program Staff (at least 18 years old)
Lead Counselors (2) (Leadership Positions)
Waterfront Director
Waterfront Assistants (3)
Recreation Director
Arts & Crafts Directors (2)
Outdoor Education Directors (2)
Climbing Tower Director
Creation Station (S.T.E.M.) Director
Assistant to the Nurse
Counselor Staff
Senior Counselors (at least 18 years old)
Junior Counselors (16-17 years old)
To Apply
Applications open in January of the camp year. Positions will remain open until filled.
Part of your application process is to gather three written references from respected individuals who are willing to document your character and work ethic. Teachers, past employers, and/or youth group leaders are all excellent examples of good references. You are not allowed to use a close relative as a reference. New applicants are not considered until three written references are submitted, so we recommend you personally gather the forms yourself, or provide a pre-addressed and stamped envelope to the individual providing the reference. 
2024 Hiring
4-H Memorial Camp needs you! Running a successful summer camp program takes a lot of people. We will begin accepting applications for summer employment starting January 1st. We are looking to fill the following positions.
Counselors
Dates: Finalized Dates coming soon
Positions: Junior Counselors 16-17 years old, Senior Counselors 18+ years old

Program staff: 18+ years old
Dates: Finalized Dates coming soon
Positions: Lead Counselors, Outdoor Ed., Lifeguard, Recreation, Arts & Crafts, Creation Station, Climbing Tower, Assistant to the Nurse
Training: All counselors and staff participate in a paid training prior to camp starting.
Please refer all applications and/or employment questions to:
Andy Davis, Camp Director
4-H Memorial Camp
499 Old Timber Road
Monticello, IL  61856
phone: (217) 762-2741
email: ardavis1@illinois.edu