Section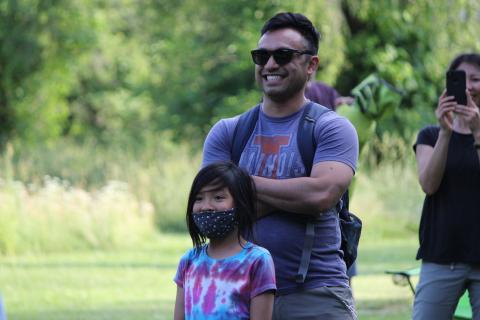 4-H Memorial Camp, Family Camp Retreats!
Come out and enjoy all that the camp has to offer as a family! Experience rock climbing, zip lining, archery, fishing, hayrack rides, campfires, crafts, cardboard boat racing, and many other fun activities.
Family Camp is back for 2022! If you have been hearing about how much fun families had at 4-H Memorial Camp last summer and wanted a chance to experience it yourself, now is your chance. Sept. 9-11, 2022 we will be holding a Fall Family Camp weekend. Your family will get to stay in their own cabin, have all meals provided from Friday Dinner through Sunday Lunch. You can find pictures of last year's Family Camp on our Facebook Page.
Activities: While at camp you can swim, boat, shoot archery, climb the rock wall, make arts & crafts, fish, take hayrack rides, participate in S.T.E.M. activities, hike, make s'mores over a camp fire and so much more! 
Required: At least one participant per family must be 4-H age (5-18 years old). Due to the nature of Family Camp, a parent or guardian must stay with their children for the duration of their camp session.
Registration: Registration will open on Friday July 29, 2022 at 9am at go.illinois.edu/2022FamilyCamp
Dates:   September 9-11, 2022
Fees:
Cabin Rental (Each cabin has 10 beds)
Participant Fee
8 years old and older: $81/person
4-7 years old: $54/person
Under 3- No Charge
Required Forms/More Information:
For more information, contact:
Andrew Davis, Camp Director
4-H Memorial Camp
499 Old Timber Road
Monticello, IL 61856
Phone: (217) 762-2741
Email: ardavis1@illinois.edu